Introduction

Follow this guide if your event requires physical box office tickets with ticket options pre-loaded.

Some examples scenarios where this can be used:

Your box office is selling a special general admission ticket with a 'bonus show bag'. The show bag can be configured as a ticket option, which the attendee can redeem at a designated counter within your event.

Your box office is selling general admission tickets with included credits that are redeemable for liquor and food at a food and wine show (e.g. "Admit 1x Adult (includes 5x Food & Drink Credits)". Those credits can be set up as ticket options, which the attendee can then 'spend' at participating vendor stalls throughout your event. You can read more about how this works with vendors here: What is 'Redemption' scanning mode in the LeadGen app?


Pre-requisites

Before you follow this guide, please ensure you have completed all pre-requisites:

Your event has launched with EventsPass

Your event is selling physical box office tickets, and those ticket types have already been configured in your event. Please note that when you apply pre-loaded ticket options to your box office tickets, the change will apply to ALL of those ticket types. This means it will apply retrospectively to tickets you have previously generated, and proactively to any new tickets that you generate.

Your box office ticket types already have the relevant ticket options assigned to them. Read more here: Step 4a (Optional) - Add Ticket Options to your tickets.

Instructions:
Part 1 - Configure the preloaded ticket options for each ticket
Load the 'Manage Tickets' view in your EventsPass account.
Scroll down and find the 'Onsite' ticket type that you wish to load ticket options onto.
Click the 'Manage Default Ticket Options' button.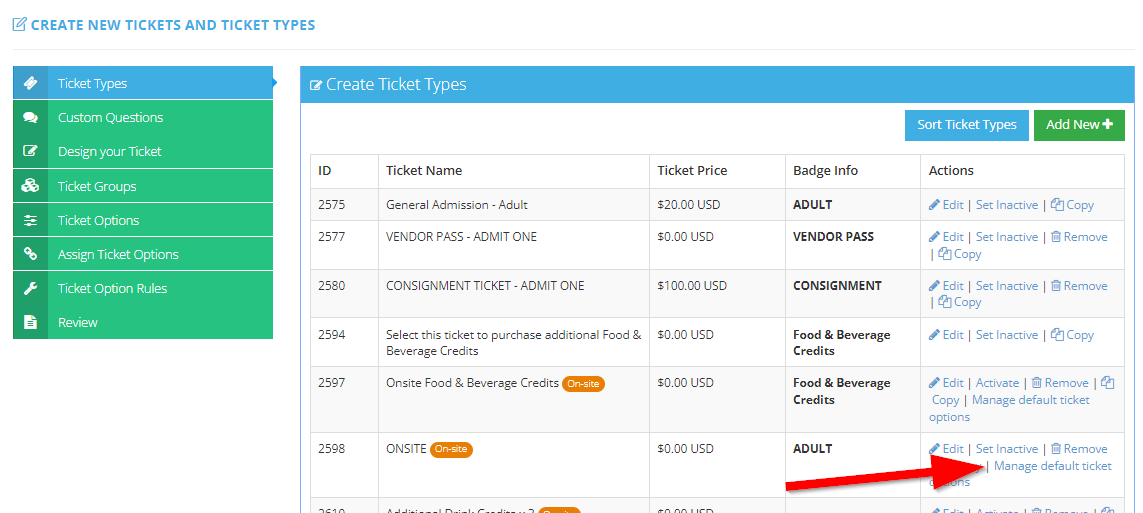 Note: if you have no on-site tickets listed, then please return to the pre-requisites and fulfill all items before proceeding further.


Note: If the 'Manage Default Ticket Options' button is not visible, then you may not have assigned the ticket options to the ticket type. Please return to the pre-requisites and complete this step before proceeding further.

The allocations window will open. This is where you configure the ticket type with the pre-loaded ticket options.
Under the Configuration heading, you will need to specify the settings for each ticket option you have assigned to this ticket type.
The purpose of each column (numbered in red) is as follows:
Enable this, if you wish for the ticket option listed to be included on this ticket type by default

Ticket Option name

Only applicable for multi-buy ticket options (e.g. drink credits at a wine show). If enabled, please specify the number of options that should be assigned to the ticket. For example a "General Admission (includes 5x Drink Credits)" ticket, you would include '5' in this Qty column.

Enable this setting if you do not want the ticket option to be visible if the ticket type in question is scanned in Kiosk mode on the Check-In app.


If disabled, the event organizer can scan this ticket type at any time in kiosk mode, and add this ticket option.

If enabled, the ticket type in question can only ever contain the number of ticket options that you are assigning at this step.

If unsure which setting to select, then enable this setting for a more secure configuration (especially important when you have a kiosk/self registration area for your attendees)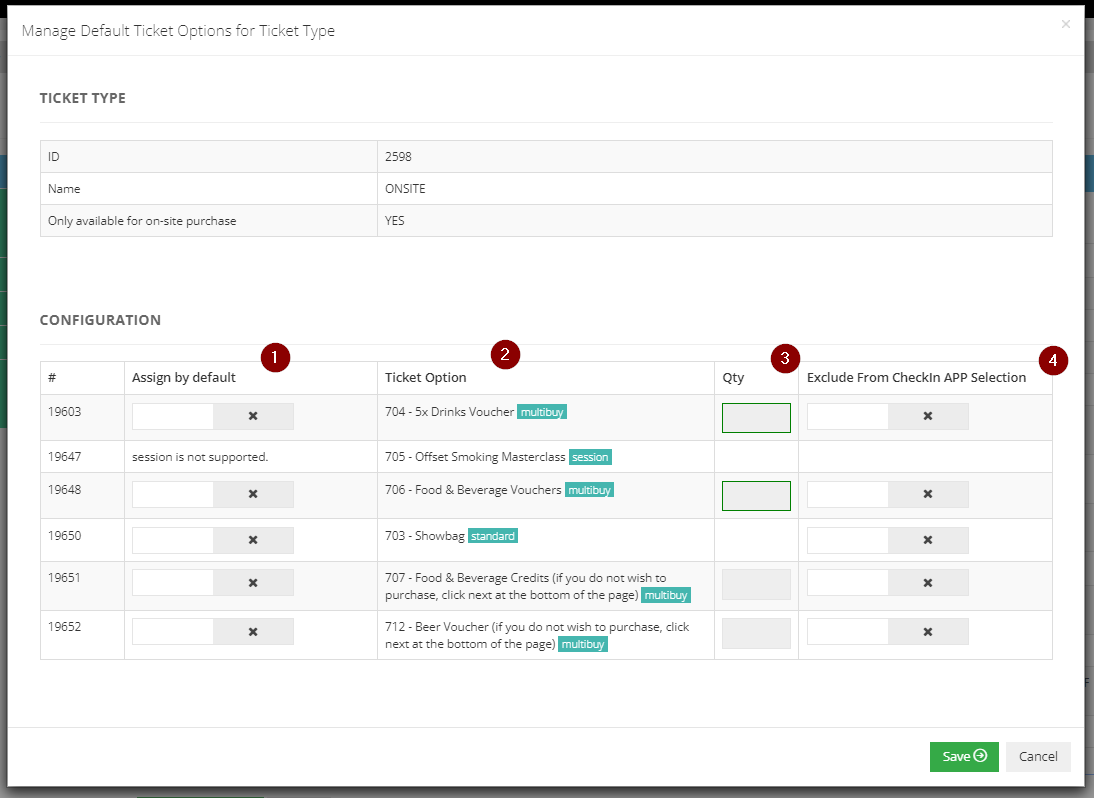 Update the ticket type according to your requirements then click 'Save'.

Repeat this process for all ticket types that you wish to pre-load ticket options.
Part 2 - Arrange for the physical printing of your box office tickets

Once you have configured your ticket option allocations per the above instructions, please proceed in the process of batch generating, and then printing your tickets.
This process is outlined here
.
Once this process is complete you will have your bulk stock of box office tickets (with pre-loaded ticket options) that you can share with the team who will be administering your box office.