What is LeadGen? What are the benefits?
What is LeadGen
LeadGen is a world-renowned lead capture system allowing exhibitors/vendors to seamlessly capture lead contact details for events where EventsPass is the official ticketing provider.
Amplify event ROI with LeadGen by capturing more leads, without errors, making follow-up fast and efficient to turn leads into sales. Visitor contact information is captured and stored as a lead when participating exhibitors scan the QR code on an attendee's ticket, using the
EventsPass LeadGen app
.
Attendee contact information (name, email and contact number) is usually captured during the EventsPass registration process. When an attendee registers their ticket (i.e. during online ticket purchase; when entering an event prize drawing; or after scanning at the first vendor booth visited), they are prompted to enter their details. Once their information is saved once, it is stored in the cloud & available for lead scanning by all participating exhibitors. This means participating exhibitors spend far less time saving those crucial customer details at the booth!
Watch the demonstration (looping GIF image)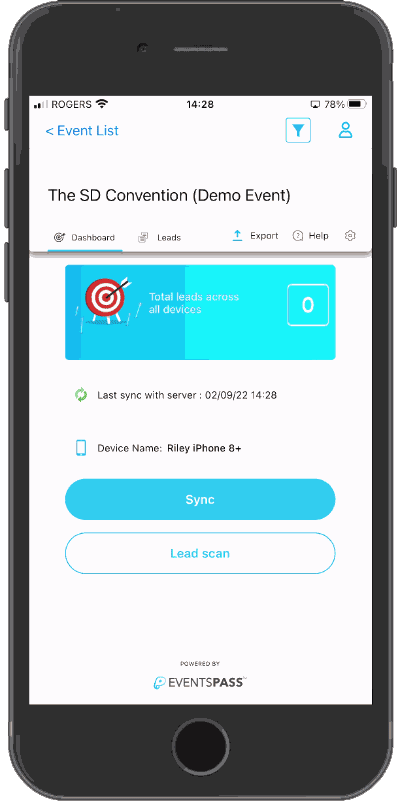 See here
for a more comprehensive guide to scanning attendees using LeadGen.
Key benefits for vendors:
Customer Centricity:

The low effort nature of the LeadGen system means booth staff have time to provide a more personal touch for booth visitors.

More Leads:

LeadGen allows vendors to scan leads in seconds, ensuring they can capture more leads even when there is a spike in booth traffic.

Fewer Errors:

Visitors are stored as a lead upon scanning their ticket QR code. This means no more deciphering handwritten notes or time and errors re-typing data into your system post-show.

Touchless:

LeadGen is a 'no touch' lead capture system by default, meaning vendors can keep their staff and their visitors safe.


Watch the video: Hear from our happy customers

Other features that set LeadGen apart
Qualify leads for targeted lead follow-up:

Take notes or rate leads with each lead scan – storing this information against each lead captured (included with LeadGen app)

Option to add additional custom questions (ex: booth rep, budget, purchase timeline, product interest, or any info you wish to capture specific to your company)

Fast lead follow-up:

Follow-up with leads directly from within the app while at the event or export/download leads at any time to begin your lead follow-up campaign.

Real time updates. Leads are synced to cloud almost immediately, meaning in-office teams can be ready for lead follow up as soon as the on-site team starts capturing leads.





Already in your vendor portal?
Click here to learn the difference between an 'Active' and 'Inactive' LeadGen package.
Related Articles

Download the LeadGen app and sign in to your account

IMPORTANT: Please share your LeadGen account login details with all staff who will be using LeadGen scanning devices at your event. Please do so at least 3 days before your event commences, so your team has adequate time to set up any scanning ...

Scan a test ticket with the LeadGen app before your event starts

SCAN THE TEST QR CODE PERFORM A TEST SCAN ON THE QR CODE BELOW WHILE LOGGED IN TO THE LEADGEN APP Below is a test QR code (an example ticket barcode) on which you can perform a test scan using the LeadGen app, with any LeadGen package that you have ...

View your leads in the LeadGen app

To see your captured leads, while logged in to your event in the LeadGen App, tap the 'Leads' tab. A list of all the leads you have captured will be shown. Warning: Do not uninstall the app while on-site at your event, as this will permanently ...

I never received the email invitation to sign up to LeadGen

Vendors are invited onto the EventsPass LeadGen system only once an event organizer has partnered with EventsPass for their ticketing and registration needs.If your event has partnered with EventsPass, then please check your emails, including your ...

Can I use LeadGen at my upcoming event?

Currently, vendors are invited onto the EventsPass LeadGen system only once an event organizer has partnered with EventsPass for their ticketing and registration needs. Please put your event organiser in touch with our team if you would like to ...