Accessing your Vendor Portal


Note: Portal access is strictly controlled by the event organizer. If you believe you should have an invitation but cannot find one, please contact the event organizer for further assistance.

What is the Vendor Portal?

The EventsPass portal is a multi-functional account that allows you to order tickets and/or credentials, manage your LeadGen package, export leads you have collected via LeadGen, and more for an event that your company is exhibiting or participating in.


Note: The numbers on the above picture correspond to the listed descriptions below.

What can you do in the Vendor Portal?
1. Order Credentials/Tickets

2. Manage Credentials/Tickets

3. View Credential/Ticket Allotment

From this tab you will be able to see what your allotment is for various tickets and credentials. Your allotment is how many of the ticket/credential type the event organizer has permitted your company to order.


4. Export Order History

Download a CSV of all tickets and credentials that you have ordered through your vendor portal. The extract includes the names of those you have registered, what type of pass was ordered, share status of the credential and more.


5. Activate/Manage LeadGen Package

When you first log into you may be able to activate your LeadGen package, if this has been made available for your event.

If you intend to use LeadGen, your package configuration is incomplete if the status indicates 'INACTIVE' (see below). You will not be able to use LeadGen at your event with this status.

If you are using LeadGen, your package configuration is complete (
ready for scanning
) if the button changes to 'MANAGE LEADGEN PACKAGE' (see below). When the button changes to this format, you can see how many active device logins are permitted on your account. This number represents how many devices you can be simultaneously logged in to for this event.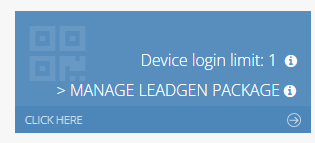 6. Export All Leads

Exporting all leads will generate an excel file containing all leads scanned using EventsPass LeadGen app. Learn more:
Export your leads

Note: This functionality will not be visible until after you active LeadGen.
View a summary of ticket option redemptions made by your LeadGen account at your event (if applicable).
Note: If you are participating in an event that is configured so that vendors can redeem options from attendees and patrons (for example, a wine show where the wine vendors redeem drink credits from patrons), then you may also see a 'Ticket Option Redemption' button. This button allows you to see the history of redemptions made by your EventsPass LeadGen account (example below).