Navigating your EventsPass vendor portal
Accessing your Vendor Portal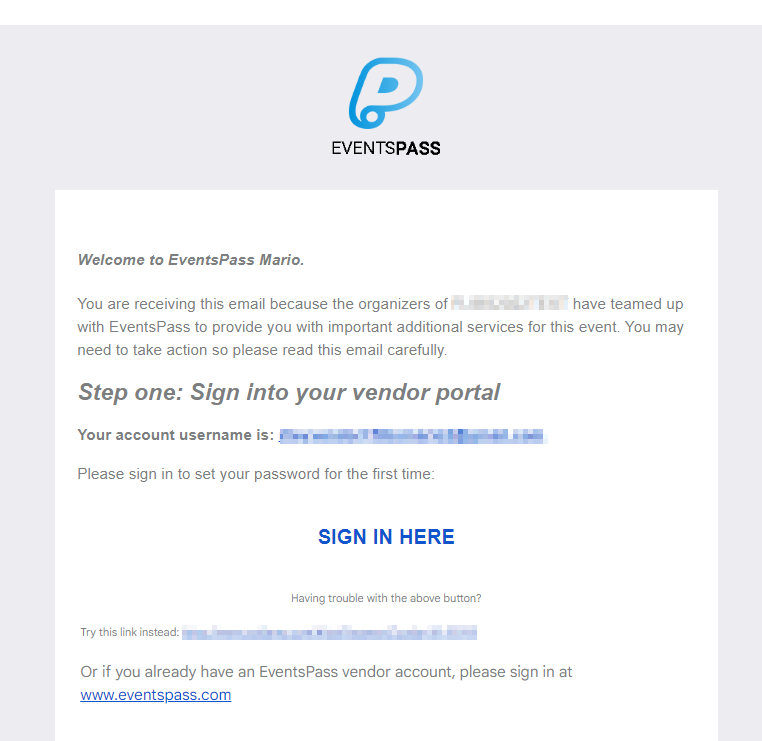 What is the Vendor Portal?
The EventsPass portal is a multi-functional account that allows you to activate and manage Leadgen forms, export leads you have collected, and order/manage tickets to your event.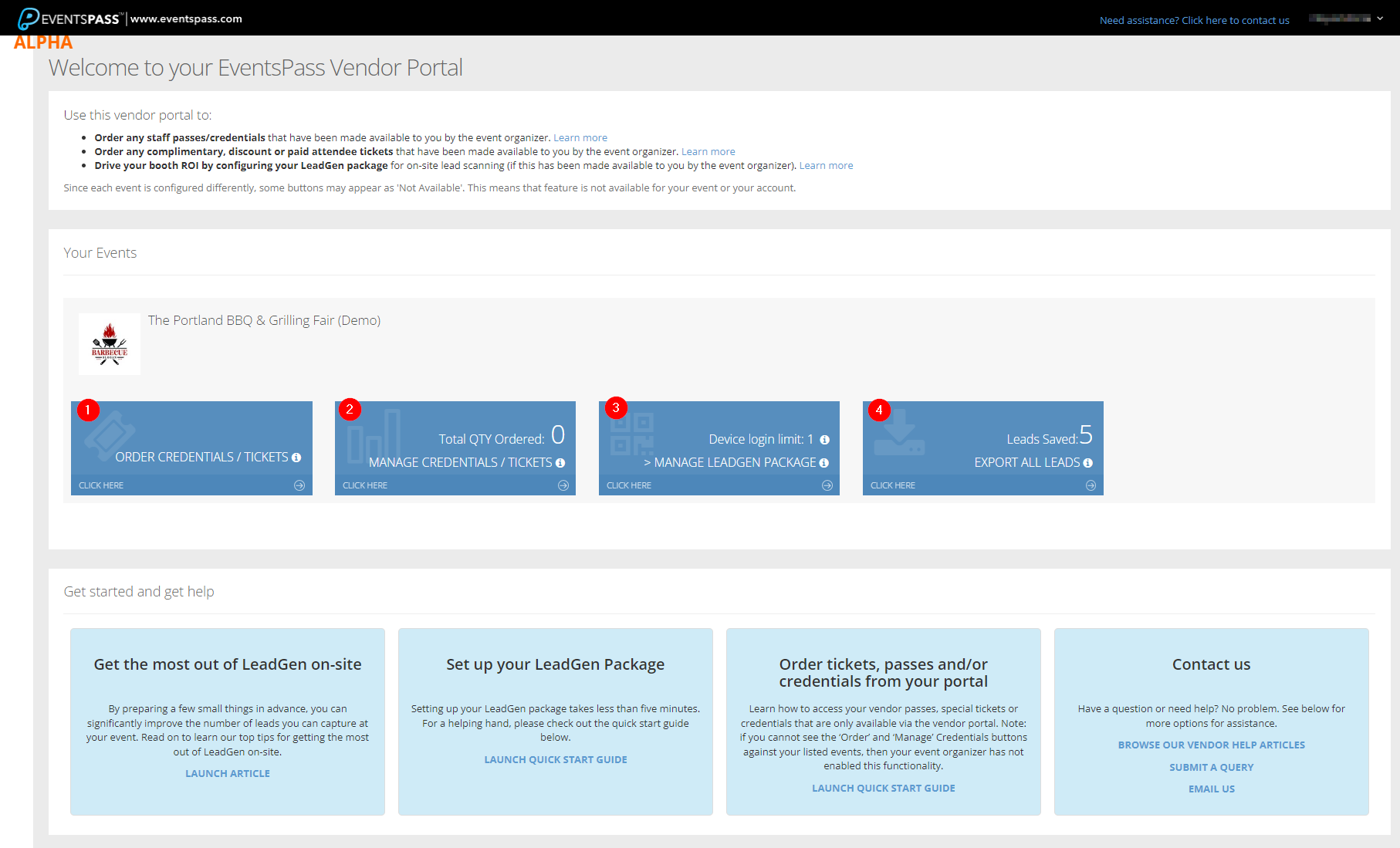 Note: The numbers on the above picture correspond to the listed descriptions below.
What can you do in the Vendor Portal?

1. Order Credentials/Tickets


2. Manage Credentials/Tickets


3. Activate/Manage Leadgen Package


When you first log into you will be able to activate your Leadgen package.
If you intend to use LeadGen, your package configuration is incomplete if the status indicates 'INACTIVE' (see below). You will not be able to use LeadGen at your event with this status.

If you are using LeadGen, your package configuration is complete (

ready for scanning

) if the button changes to 'MANAGE LEADGEN PACKAGE' (see below). When the button changes to this format, you can see how many active device logins are permitted on your account. This number represents how many devices you can be simultaneously scanning with, on-site at on your event.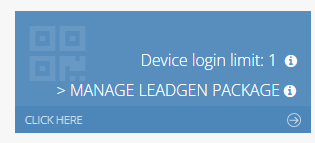 4. Export All Leads


Exporting all leads will generate an excel file containing all leads scanned using EventsPass leadgen app. Learn more:

Export your leads

Note: This functionality will not be visible until after you active Leadgen.



View a summary of ticket option redemptions made by your LeadGen account at your event (if applicable).
Note: If you are participating in an event that is configured so that vendors can redeem options from attendees and patrons (for example, a wine show where the wine vendors redeem drink credits from patrons), then you may also see a 'Ticket Option Redemption' button. This button allows you to see the history of redemptions made by your EventsPass LeadGen account (example below).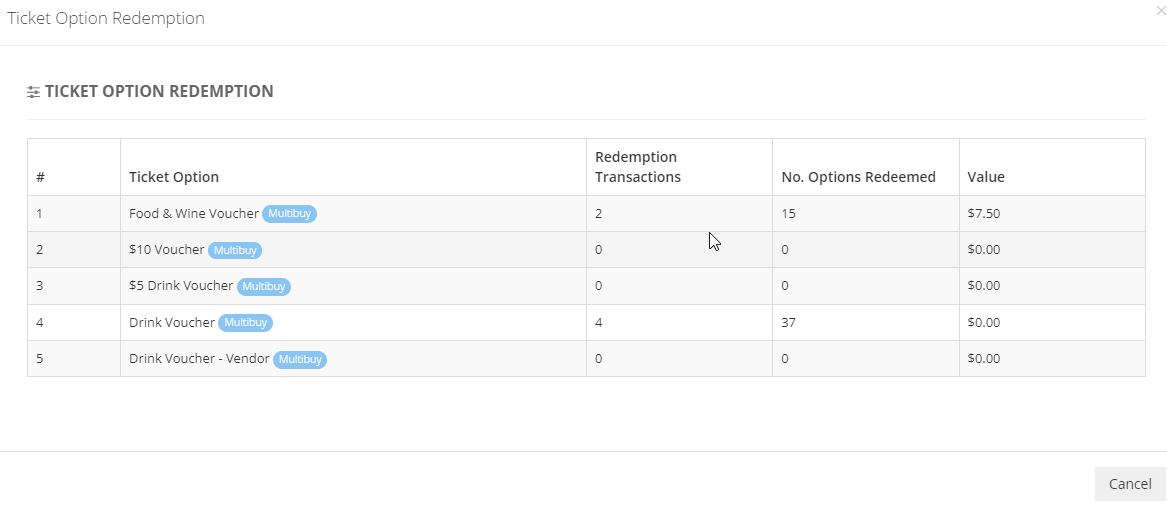 Related Articles

Ordering passes / tickets / credentials from your EventsPass vendor portal

This guide only applies to events where your producer or event organizer has created vendor staff passes. These are tickets that you and/or the staff on your booth will use to gain access to the event you are participating in. If you have received no ...

What is LeadGen? What are the benefits?

What is LeadGen LeadGen is a world-renowned lead capture system allowing exhibitors/vendors to seamlessly capture lead contact details for events where EventsPass is the official ticketing provider. Amplify event ROI with LeadGen by capturing more ...

Export your leads

Note: If you believe some leads are missing from your export file, then please see here: I cannot see all my leads / where did my leads go? Export leads via the LeadGen scanning app From the main dashboard view in your event, simply tap on export ...

Ordering Credentials Through Your EventsPass Vendor Portal

To begin the ordering process navigate to the order ticket/credentials tab on your vendor portal homepage Next, you will see all the tickets that are available to be ordered via the vendor portal. Select the number of tickets you want to ...

Top tips to make the most out of LeadGen at your event

Top Tips 1. Define your lead capture goal Determine what is most important to your business and work backwards from there. For example, some vendors want to maximize the volume of leads, so they may opt to run a competition or special prize drawing ...